Introducing a revolutionary feature in Tapform – the integration of Calendly into our form flows! This seamless addition now allows you to include Calendly scheduling as a final, crucial step in your forms. Setting up this integration is a swift process, requiring just a few seconds to transform your lead management approach.
Calendly, a renowned scheduling software, is designed to eliminate the back-and-forth often involved in arranging meetings. By integrating Calendly with your Tapform forms, you provide a streamlined scheduling experience directly within the form submission process, enhancing both efficiency and user experience.
To leverage this integration, start by creating a Calendly event, then simply copy and paste the event link into your Tapform dashboard. This quick setup transforms your form into a powerful scheduling tool, automatically inviting leads to book a meeting upon form completion.
Benefits of Integrating Tapform with Calendly
The combination of Tapform's robust form capabilities with Calendly's seamless scheduling offers numerous advantages. It streamlines the entire process of lead engagement, enhances user experience, and significantly boosts efficiency in managing and following up with leads.
This integration not only saves time but also enhances the professionalism of your business interactions. By reducing the need for separate scheduling steps, you ensure a smooth transition for your leads from information submission to appointment booking, all within a unified system.
Effortless Scheduling
The Tapform-Calendly integration simplifies the meeting arrangement process. It embeds the scheduling step right into your form, making it easier for leads to choose a suitable time without additional communication, thus streamlining your workflow.
Increased Engagement and Conversion
By offering an immediate scheduling option post-form submission, the likelihood of lead engagement and conversion increases. This direct call-to-action encourages leads to take the next step effortlessly.
Professional and User-Friendly Interface
The integration presents a professional, user-friendly interface to your leads. It demonstrates an appreciation of their time and a commitment to efficiency, enhancing your brand's image.
How to connect Calendly to Tapform?
Implementing Calendly integration into your Tapform forms is remarkably straightforward and quick, designed to enhance your scheduling process with minimal effort. Here's how you can effortlessly integrate Calendly into your forms:
1. Set Up a Calendly Account and Event: Whether you're an existing Calendly user or new to the platform, the first step is to set up your event. Visit Calendly and create an account for free if you haven't done so already. Then, proceed to create your event.
Click here to create account on Calendly
2. Copy Your Calendly Event Link: After your Calendly event is ready, copy the event's invitation URL. This link is essential for integrating the event into your Tapform form.
3. Integrate with Tapform: Navigate to your Tapform Dashboard. Here, you will find an option to paste your Calendly URL. Simply paste the link and click 'Save.'
That's all it takes! With these steps completed, your form will now feature a Calendly scheduling popup as its final step. When your leads fill out the form, they will be prompted to schedule an appointment via Calendly. This seamless integration not only saves their submission but also sets up a meeting, all in one go.
Below is an example of how Calendly scheduling looks inside your Tapform: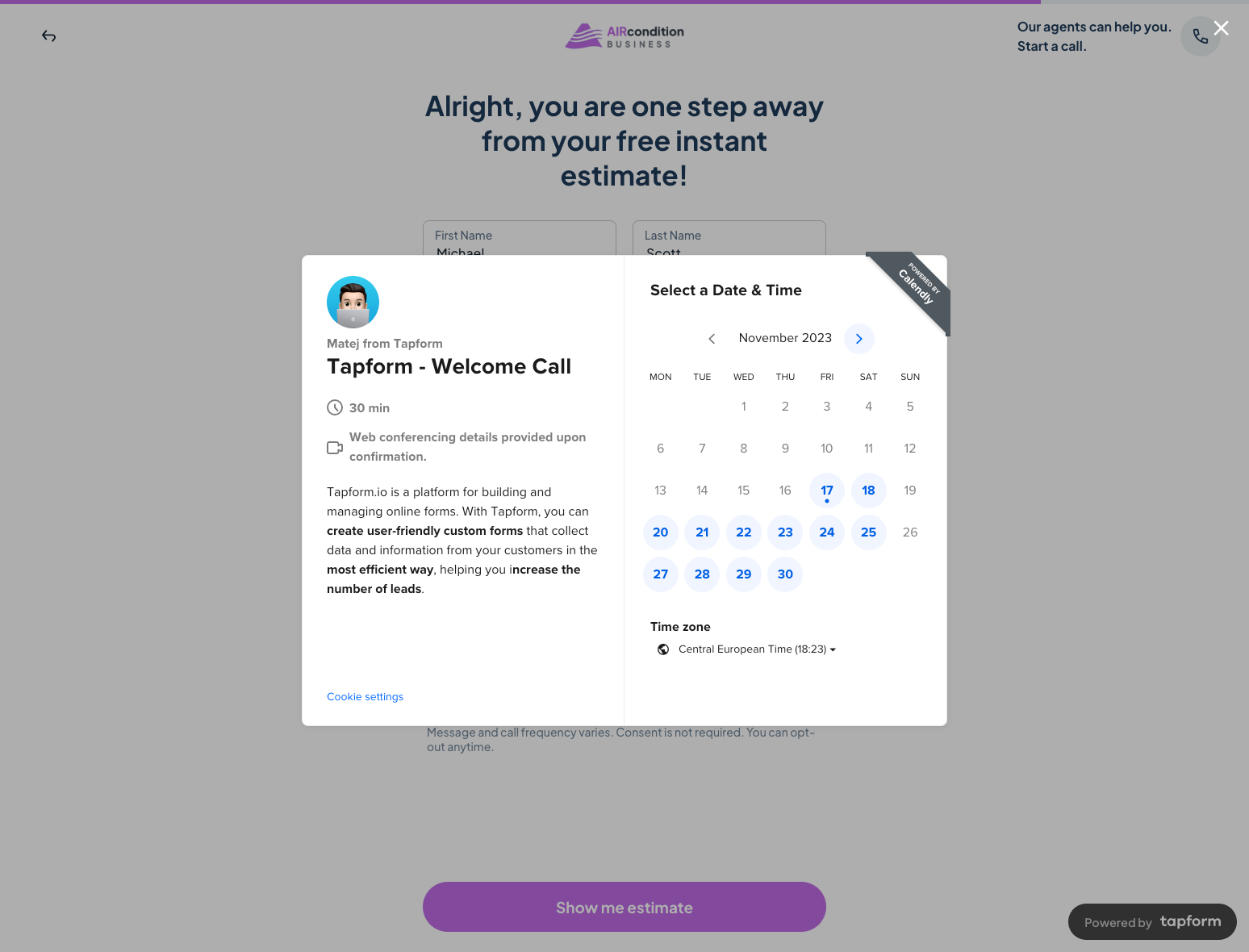 This integration is designed to make the scheduling process as easy and efficient as possible, ensuring a smooth transition for your leads from form submission to scheduling a meeting.
Maximizing the Integration
To make the most out of the Tapform-Calendly integration, ensure your Calendly events are aligned with your business needs. Regularly update your availability and adapt the settings as needed to keep your scheduling process aligned with your operational goals.
Embrace this integration to revolutionize your lead management process. Tapform's integration with Calendly isn't just about adding a feature; it's about enhancing your entire approach to lead engagement, making every interaction count, and streamlining your business operations.